12/6/87 - 10/28/00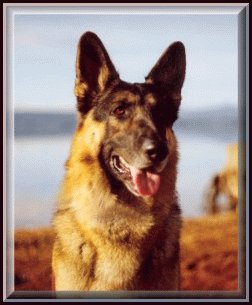 OFA GS-26187G29M EL239
Breeders: Nancy Hubbell & Tedi Ginsburg
Owners: Nancy Hubbell & Karen Taylor and presented by Jerry Guzman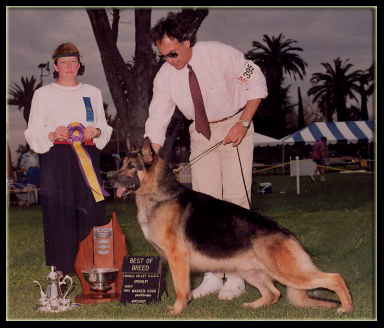 Fisher shown winning a Best of Breed under specialist Lanalee Jorgensen
Fisher was linebred on the exceptional sire line of Dakota, Raider, Durango, etc. with excellent dam lines on both sides. After winning most of his puppy and 12-18 classes, Fisher's first major win was winning Best Futurity Male at the NW Futurity under Walter Falk. He then won four points under Jerry Graham and then at the 1989 National in Philadelphia, he won the American Bred Dog class under Peggy Douglas.
Fisher finished his championship with additional wins under Bud Drew, Janice Staley, Dr. John King and Helen Franklin. At the age of 3, Fisher's career was highlighted when Ed Barritt awarded him the title of Select.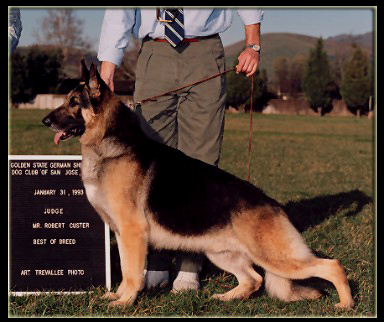 Another Best of Breed for Fisher under Judge Robert Custer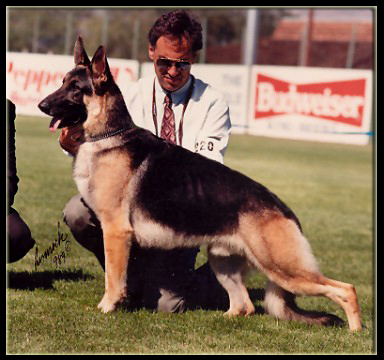 Fisher as a young dog winning his first major under Judge Jerry Graham.
Contact Kansten for information regarding frozen semen from Fisher.